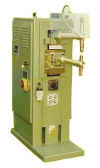 The rocker arm spot welging machines are manufactured since a very long time, always with enviable results.
Today these spot welding machines, manufactured in massproduction up to 35kVA power, maintain the traditional characteristics of stoutness, reliance and welding capacity.
The transformer is made with windings in electrolytic copper and magnet core widely dimensioned.
The welding current is adjusted and contolled by means of thyristor contactor equipped with an electronic timer. These spot welding machines are manufactured with mechanical foot pedal or with pneumatic operation and, against request, the machines may be equipped with a four-time electronic control.
To prevent troubles that might endanger machine's life, we suggest to execute a complete overhaul every ten years.